Digital Wellness & Mental Performance with Donna & Marcello Abbate – DomainSherpa: Down the Rabbit Hole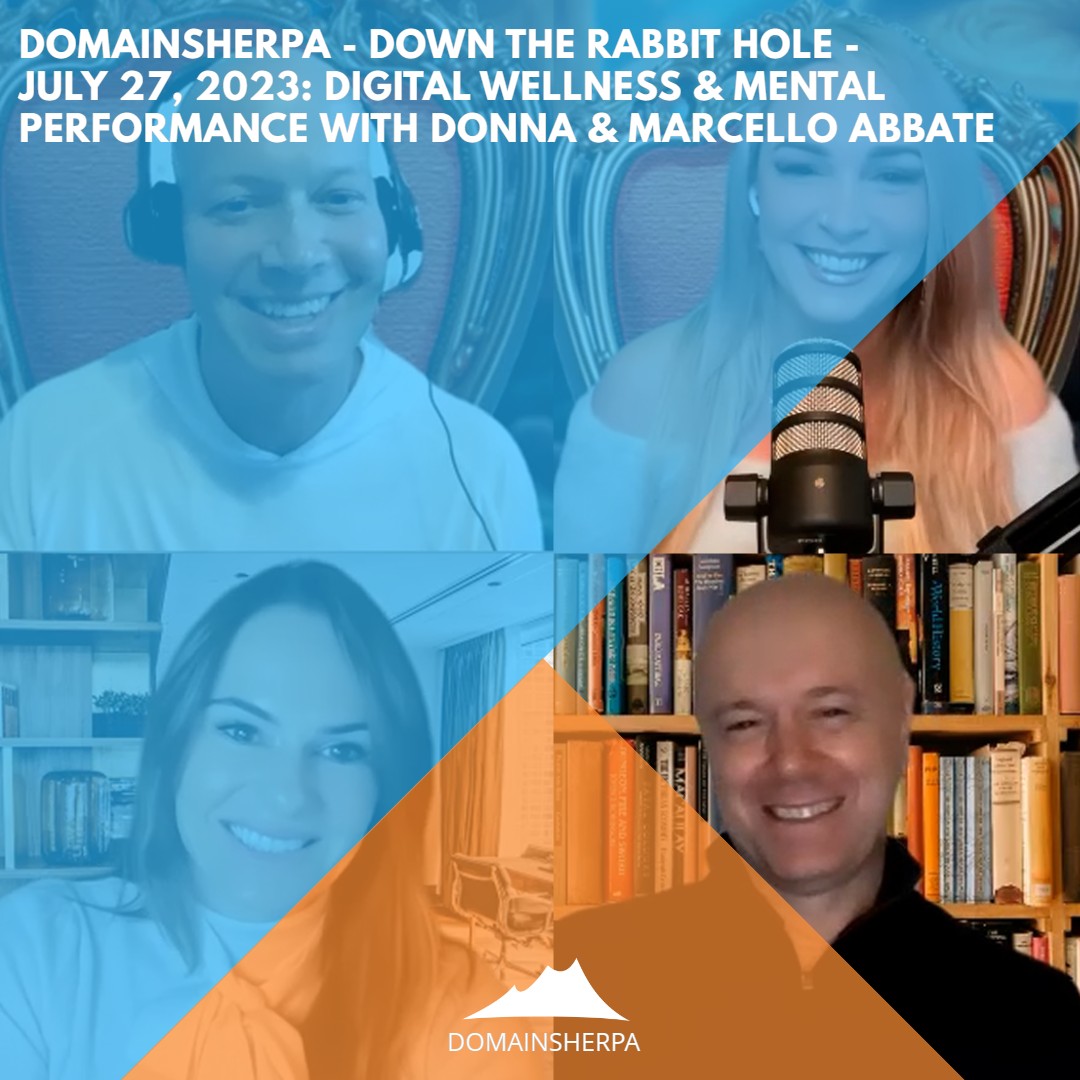 "As we say on DomainSherpa – all roads lead to domains. And in the reverse, domains has us venturing "down the rabbit hole" into different topics all the time. This is a tech-adjacent, digital asset, pop-culture, tangent-positive monthly podcast – with some domains stuff thrown into the mix for good measure.
In this episode, co-hosts JT & Jen Sale are joined by leading Digital Wellness and Mental Performance experts Donna and Marcello Abbate from FitForLifeMindBodySoul.com to discuss how to balance using technology for work and leisure while ensuring it doesn't negatively effect your physical and mental health, such as posture, eye health, sleep, mindset, productivity, and relationships.
So, tune in and jump down the rabbit hole with the Rabbit Hole Gang!"
🚨NEW EPISODE DROP🚨
Digital Wellness and Mental Performance

– @J10enbaum @JenSale are joined by experts Donna and Marcello Abbate
– secrets of thriving in the digital era
– balance technology for work/leisure
– importance of sleep
– + more! 🧠💪

🔗https://t.co/YhrBwKfc1Z pic.twitter.com/Oar3lEmchu

— DomainSherpa (@DomainSherpa) July 28, 2023
Jen's episode recap on Twitter:
A recap of our Part 2 #NuclearMarshmallows epi w/ John & Ammar on #DownTheRabbitHole ⤵️🐇🕳 #Domains:

Src: @DomainSherpa 📺 https://t.co/VvxDajDQNB
Cc: @J10enbaum🎙 @andrewrosener💎 @Berryhillj⚖️ @AmmarKubba🐓
Keymaster: @BradenPollock🗝
BFF: @KingWillChalton🐱

A thread 🧵

— Jen Sale (@JenSale) March 24, 2023